Welcome to World Inline Hockey! We're a website dedicated to bringing you the latest news, insights, and analysis from the world of inline hockey.
Our website was founded by Mark, a lifelong inline hockey enthusiast with a passion for sharing his love of the sport with others. Mark started World Inline Hockey as a way to connect with other inline hockey fans and to provide a platform for sharing knowledge and experience about the sport.
At World Inline Hockey, you'll find everything from in-depth coverage of professional inline hockey leagues and tournaments to tips and tricks for improving your own inline hockey skills. Whether you're a seasoned pro or just starting out in inline hockey, we've got something for you.
Our mission at World Inline Hockey is to provide a comprehensive resource for inline hockey players, coaches, and fans around the globe. We aim to educate and inspire through informative articles, engaging videos, and interactive features, all while promoting the growth and appreciation of the sport. Whether you are a beginner looking to learn the basics or an experienced player looking to take your skills to the next level, World Inline Hockey is your go-to destination for all things inline hockey.

Mission Statement of World Inline Hockey
Thanks for visiting World Inline Hockey! We hope you'll come back often and become a part of our inline hockey community.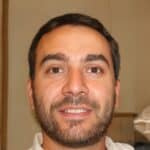 Mark
Founder, World Inline Hockey